DIY SOS Children In Need Special
DIY SOS: The Big Build BBC Children in Need Special airs 20:00 on 17th November, BBC One.
DIY SOS has been working on one of its most ambitious and heartfelt projects to date to raise money for BBC Children in Need. Nick Knowles, DIY SOS presenter, and the 'Purple Shirts' team have begun transforming a Blackpool-based young carers centre from a run-down, neglected Victorian house, to a fun, safe and supportive environment where young carers are able to enjoy their childhood. The transformation will be documented in 'DIY SOS: The Big Build BBC Children in Need special' when the show airs in on BBC One on November 17th.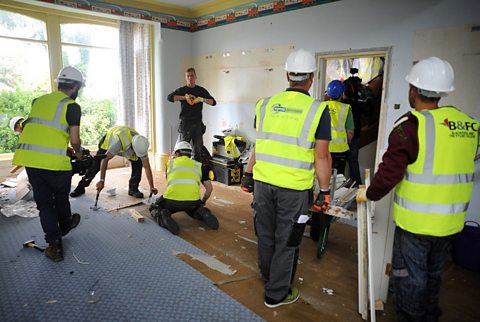 Joining the team for this special build is TV presenter, Laurence Llewelyn-Bowen, the homestyle consultant has designed the project, as well as over 250 local volunteers helping in any way they can. From bricklayers to plasterers, gardeners to tea-makers, the community has come together to donate their time, resources and materials for the good cause.
The property, Blenheim House, is owned by Blackpool Carers Centre, a charity which receives BBC Children in Need funding to provide out-of-school respite and training activities as well as peer support for over 100 children and young people with caring responsibilities.